QS and ULTRACRIMP ACCESSORIES

REMOVAL TOOL
PN       Item
4117
The serrated jaws of this tool grip the stem of the Quick-Seal tube for removal of even "sticking" tubes. Ultra-Clear tubes when run at warm temperatures and polyallomer when run at cold temperatures may be difficult to extract from the rotor immediately after the run. This tool is guaranteed not to slip and will eliminate the possibility of scratching the rotor cavity.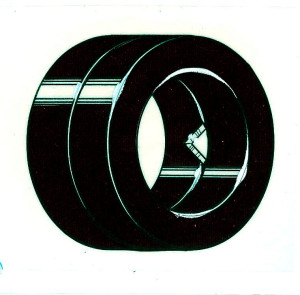 TUBE CUTTER
PN        Item
4208   Tube Cutter for 7/16" Tubes
4089   Tube Cutter for 1/2" Tubes
4095   Tubes Cutter for 5/8" Tubes
4098   Tube Cutter for 1" Tubes
4101   Tube Cutter for 1-1/2" Tubes
4104   Replacement Blade
If you have ever disturbed your separated sample after a run by performing plastic surgery on the top of a Quick-Seal tube with a scalpel, then please consider the Tube Cutters. By holding a tube and turning the Tube Cutter around the tube, the top can be cut off quickly and smoothly. You can cut to any depth in any thin wall tube material by simply continuing to turn the Tube Cutter. As shown in the picture, the blade bevels should be facing upwards.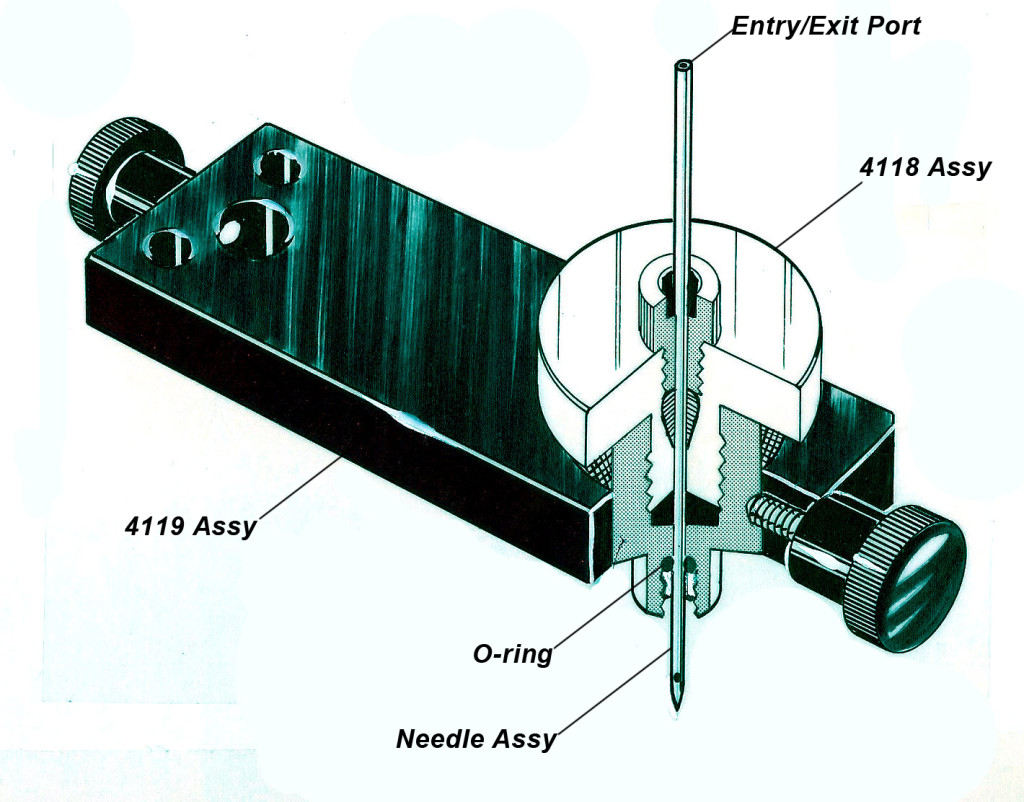 FRACTION RECOVERY
PN      Item
4118   Fraction recovery Assy, includes needle assy and o-ring
4119   Bracket Assy with knobs
4120   Needle Assy, 16 ga SS (spare)
4121   O-ring (spare)
After pulling a Quick-Seal tube from your rotor, screw on this assembly, turn the knob and easily puncture the stem with a pencil point needle with side hole. The assembly will make a positive seal to the stem. The extensive permanent deformation of the tube during centrifugation has no effect on the ability to seal as the assembly attaches only to the outside of the stem. By also puncturing the tube bottom with your present device you can pressurize the tube and drip out, or pump a neutral fluid through the bottom and out the top of our device through the 16 gage needle. Needle depth is adjustable. The bracket assembly will fit the Beckman PN 343890 fraction recovery system.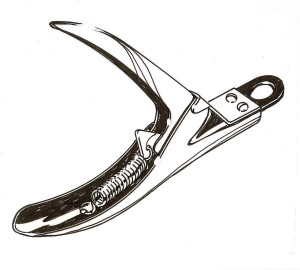 STEM CLIPPER  for QS and ULTRACRIMP TUBES
PN      Item
4115   Stem Clipper
4116   Replacement Blade
This easy-to-use device cuts off the Beckman heat-sealed stem or the DuPont crimp-sealed stem while the tube remains in the vertical position. The stem clipper easily cuts through all stem materials with no agitation of the tube contents. Razor blades and scalpels can be eliminated.