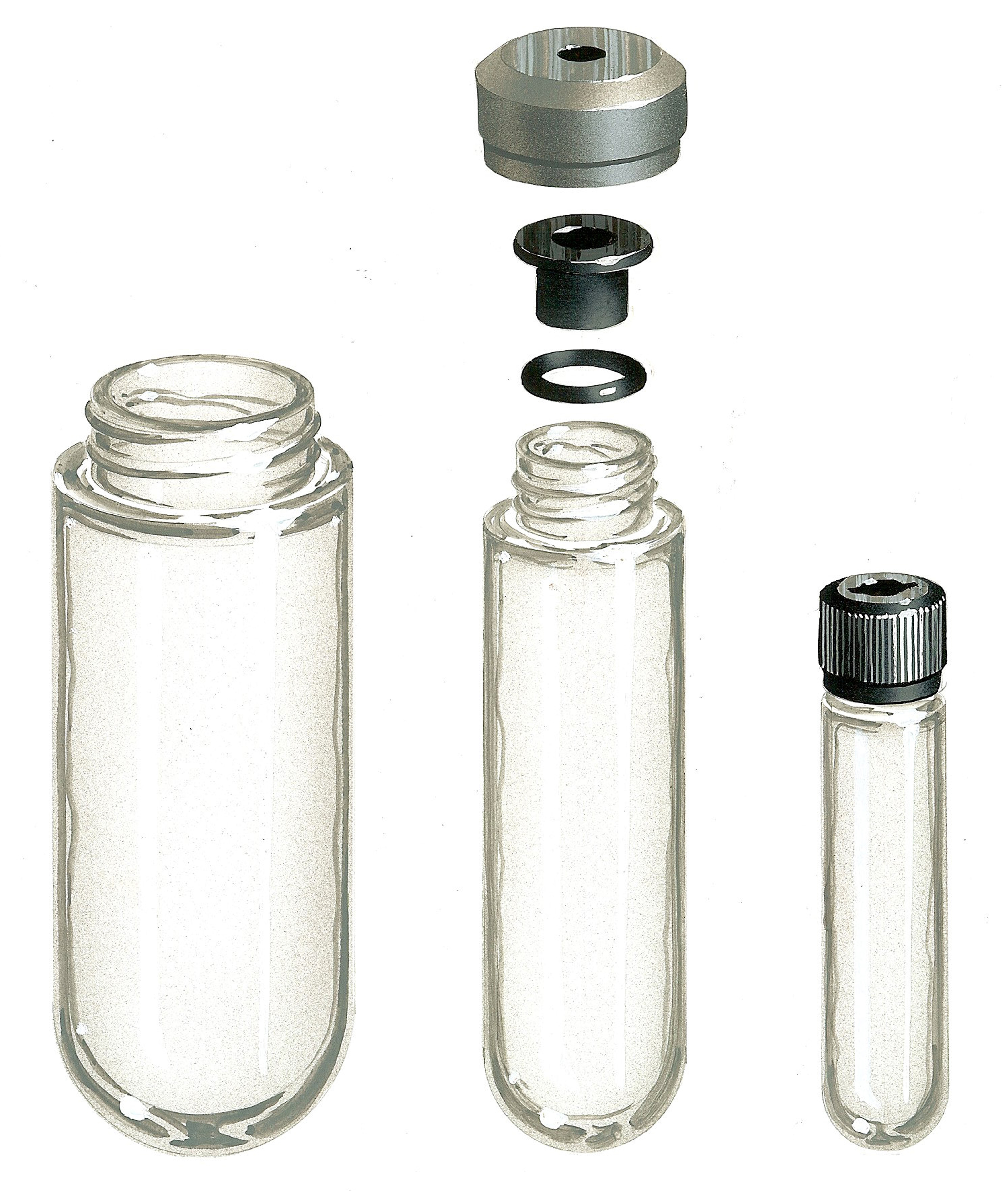 Ultra Bottles
Transparent
Thick Wall
Autoclavable
Fit Popular Fixed-Angle Rotors
Volumes from 10 to 70 ml
Polycarbonate and polypropylene bottle assemblies are provided in common sizes for use in many fixed-angle rotors. The three-piece cap assembly assures a liquid-tight seal during centrifugation. To cap the bottles, place the o-ring on the underside of the plug flange and insert the plug into the neck of the bottle. The o-ring is compressed and the seal made when the cap is hand-tightened onto the neck of the bottle.
Polycarbonate is transparent and autoclavable at 121 deg. C. Because autoclaving significantly reduces the cycle life of the bottle, cold sterilization is recommended (1). When autoclaving, separate the cap assembly from the bottle. Because of the  thick walls, the bottle cannot be sliced or punctured. Polycarbonate is resistant to neutral salts and dilute acid solutions but is not resistant to alkaline solutions. It is suggested to use the bottles at a pH below 8 to extend bottle life.
Polypropylene offers the best overall chemical resistance of plastic ultracentrifuge bottles. It has useful but limited solvent resistance at centrifugal stresses. It has excellent resistance to alkaline gradients and can be used in a 2-12 pH range. In the thickwall form of bottles it is translucent but a meniscus may be discerned with bright background lighting. It is non-wettable. The useful temperature range is 0-30 deg.C. Seton polypropylene bottles can be sterilized by autoclaveving at 121 deg.C. Sterilization can also be achieved by treatment with ethylene oxide gas or cold methods (1).
See Chemical Resistance.
(1) Aqueous solutions of 70% isopropanol or 10% hydrogen peroxide.

4408 Removal Tool
Bottle assemblies can be pulled from your rotor after this tool is locked into the hole in the top of the cap.